Jack Nicklaus Makes Another Site Visit to Nicklaus Club - Beijing
August 2012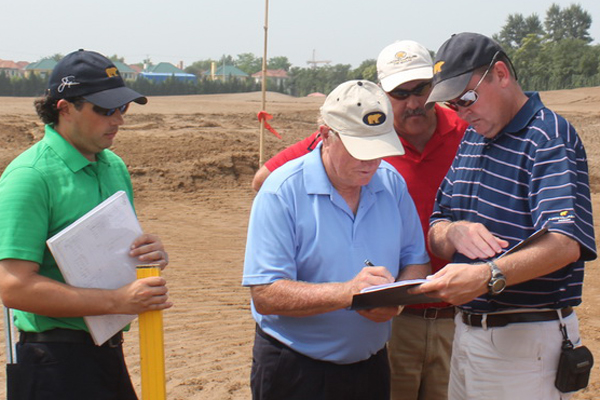 Flagstick was honored to welcome Mr. Jack Nicklaus back to the site at Nicklaus Club - Beijing in July. Construction has been moving along rapidly and Mr. Nicklaus expressed to the project team that he was very happy with the progress that has been made since his last visit in April.
Mr. Nicklaus spent one and a half days on site, with most of his time devoted to reviewing holes 1-3, 9, 12 and 18, where shaping is completed, and providing the team with design strategy for the next few holes where work will occur. He also spent time analyzing the five bunkers which were built around the greens at holes 1, 9 and 18. After careful study of these bunkers and some suggested modifications, the construction team now has a very clear vision on the desired bunker design style.
Mr. Nicklaus also gave the "go ahead" to begin greens construction on holes 1-3, 9, 12 and 18. With this direction, Flagstick will help the construction team transition into the next phases of work on these holes. We are excited to see the pieces coming together so nicely, and we are very grateful to Jack Nicklaus for his encouragement and insights. We look forward to his next visit to Beijing!