Flagstick Undertakes Construction Management at Guiyang Poly Park 2010 in Southwest China
December 2011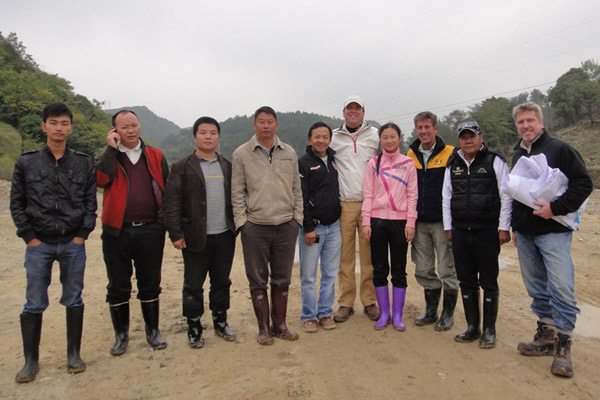 In October we reported on our team's work at Poly Silver Beach in Guangdong, China. This month, we bring you an update on Guiyang Poly Park 2010, another premier development by Poly Group (China's largest state-owned real estate developer).
Designed by Mark Hollinger of JMP Design, Guiyang Poly Park 2010 has all the makings of a true world-class golf course. Stretching to 7,400 yards, and featuring water hazards on half its holes, Hollinger's design winds through rocky canyons and clings to the sides of forested hills. Poly Group's ambitious golf course community plan calls for luxury villas, condominiums and two clubhouses (one for the golf course and one for the driving range and teaching facility).
Flagstick's construction management crew is busy with a variety of interesting challenges. The land is rugged and rocky, so substantial blasting and earthmoving is required. Fred Ward, Flagstick's on-site project manager, estimates that about six million cubic meters of dirt will be moved before the project is complete.
Another unique challenge is the number of tunnels and retaining walls made necessary by the dramatic terrain. Fred and Flagstick's project coordinator, Wendy Wei, are leading the construction team through these myriad obstacles, ensuring the use of proper techniques and attention to aesthetic detail. Guiyang Poly Park 2010 is scheduled to be finished in 2013.