Flagstick Teams Hard at Work on Three Gary Player Courses in China
January 2014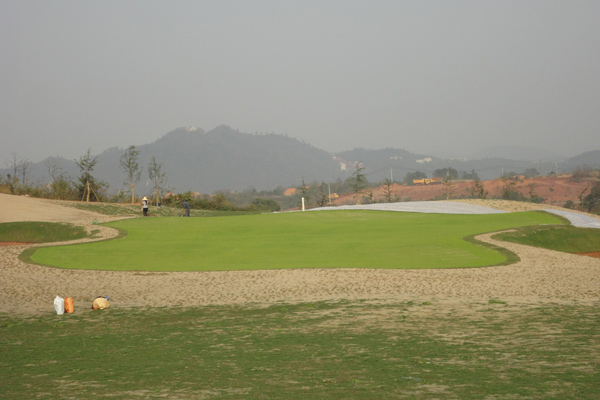 On rolling hills above the Xiang River in Hunan province, Flagstick's construction management team is hard at work. The Longping Jiuhua Sports and Leisure Park, a 36-hole Gary Player Signature design, will open its first 18 Holes next spring. Grassing has been completed and the team is now fine-tuning construction and adding finishing touches to the landscaping.
Construction on the second course is also in full-swing, with earthworks, shaping and drainage all being undertaken for scheduled completion in the summer of 2014. The extraordinary land, spectacular course design, and first-rate real estate development will soon be a golf beacon in southern China.
In northern China, Flagstick and Gary Player Design have begun work on another project, the Presidential Golf Club at Yanqi Lake. This 18-hole Gary Player Signature design has an aggressive construction timeline, having broken ground in September and scheduled for completion in June 2014. To ensure an on-time finish, the team has recently increased working hours, equipment and personnel. Flagstick and Pan China, the general contractor, have been pushing hard to get as much work completed as possible before winter sets in. In preparation for the big push next spring, additional crews are now being organized and will mobilize in early March.
"What's the big hurry?", you might be wondering. The answer: APEC, the Asia-Pacific Economic Cooperation summit, to be held in Beijing next fall. This major event will be held on-site at the Presidential Golf Club. In preparation, the golf course, multiple 5-star hotels, villas, and the convention center are all under construction. We are proud to be working with a great team on this facility that will host such a prestigious global event.