Flagstick Returns to Amata Spring Country Club in Thailand
January 2014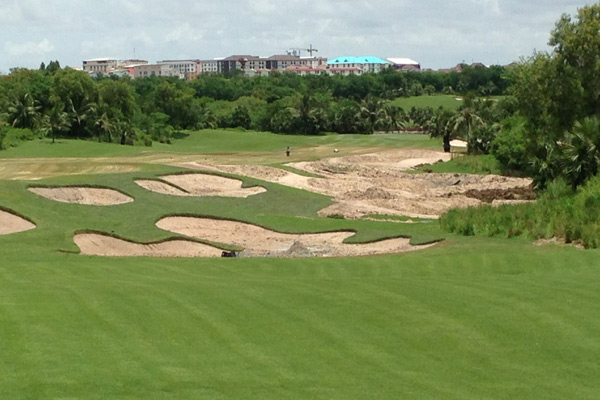 Amata Spring Country Club, site of the Royal Trophy, Asia Pacific Amateur Championship, Thailand Golf Open, and many other high-profile events, has hired Flagstick to return and complete remodel work in preparation for upcoming events.

Established in 2005, this Lee Schmidt design (of Schmidt-Curley Design) was managed during initial construction by Flagstick, and we are honored to be back. Our team of Thai construction specialists has been working under the guidance of Lee Schmidt and Martin Moore, Flagstick's president, who has made nearly weekly visits to ensure the quality of this renovation work.
The work has included new bunkering on six holes to increase both strategy and aesthetics, and the addition of back tees on holes 11 and 14 for increased length. All of this work was completed in two months, and will ensure that Amata Spring remains amongst the elite clubs in Thailand and a favorite in Asia for the world's top golfers.
For those who may have forgotten, Amata Spring is where Chinese prodigy Guan Tianlang, 14, became the youngest winner of the Asia Pacific Amateur Championship in 2012, which earned him an invitation to the 2013 Masters Tournament. At Augusta, he became the youngest competitor in tournament history, made the cut, and was low-amateur for the week.