Another Successful Flagstick–Poly Group Venture Takes Shape in Southern China
October 2011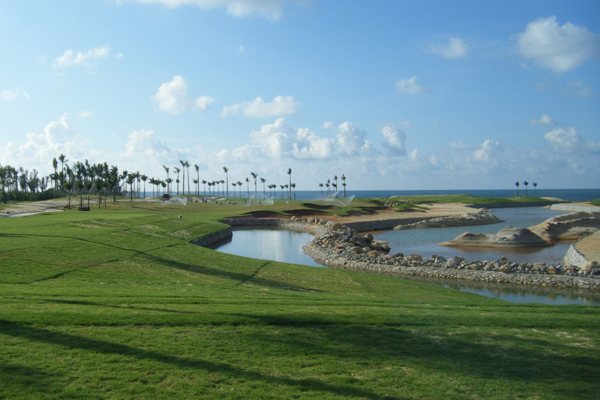 Four hours from Guangzhou, near the fishing village of Zhapo, lies what will surely become one of Poly Group's crown jewels of real estate development: Poly Silver Beach. Poly Group, China's largest state-owned real estate developer, has teamed with Flagstick on numerous golf projects in China, and we have joined forces again at Poly Silver Beach, where Flagstick began pre-planning in June 2010, and golf construction soon thereafter.
This stunning ocean-front property has seen dramatic progress in recent months, including the simultaneous construction of four 5-Star hotels, the golf clubhouse, entrance roads and major infrastructure.
Designed by Schmidt-Curley, the golf course meanders its way through pockets of villas, luxury hotels, impressive man-made water features and brilliant oceanfront property. All phases of golf course construction are currently in progress, including rough shaping, drainage, irrigation, feature construction, cart path construction, landscaping, grassing and even grow-in on the first few holes, which are on pace to be playable within a month's time.
Under Flagstick's guidance, substantial completion of the golf course is scheduled for spring 2012, with subsequent grow-in and maintenance to follow.