Flagstick-Managed Courses Receive Six Top Awards at the Asia Pacific Golf Summit
December 2011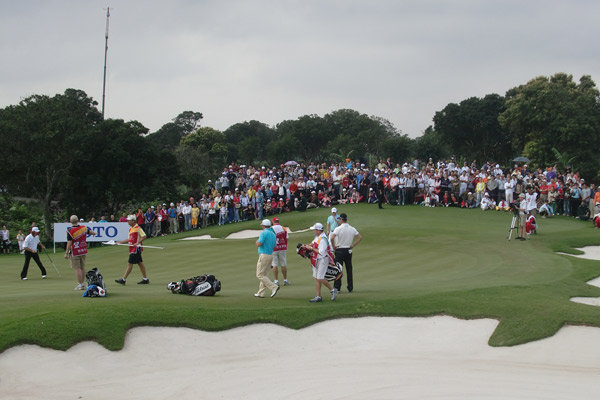 Asian Golf Monthly's annual course rankings were announced last month at the Asia Pacific Golf Summit in Pattaya, Thailand. Flagstick projects swept the top two spots for the Best Course in China category, with Mission Hills Haikou (Blackstone Course) awarded the #1 ranking, and Spring City Golf & Lake Resort (Mountain Course) taking the #2 spot.
Martin Moore, president of Flagstick, had this to say: "It's a thrill that 15 years after we built it the Mountain Course at Spring City is still considered one of China's top two courses. And, of course, Flagstick is honored to be part of the story at the multiple-award-winning Mission Hills Haikou. These awards are a testament to the unparalleled and lasting quality that Flagstick's services bring to every project."
Mission Hills Haikou was indeed a big winner at the ceremony. It was named Asia Pacific's 2nd Best Golf Resort and the Blackstone Course was recognized as Asia Pacific's 3rd Best Championship Course. Just weeks later the resort, whose ten courses were all managed by Flagstick, was named the International Association of Golf Tour Operators' Best Golf Resort of the Year. No wonder this magnificent facility was chosen to host the Omega Mission Hills World Cup in late November!
Two other recently-opened Flagstick projects also took home prestigious awards: Stone Forest International Country Club and The Dunes at Shenzhou Peninsula were rated the 2nd and 3rd Best New Courses in Asia Pacific, respectively. These spectacular facilities feature some of the most stunning scenery in the world of golf. Stone Forest's 54 holes are routed through an ancient "forest" of boulders and rock formations near Kunming, China. The Dunes at Shenzhou Peninsula features 41 breathtaking holes stretched along a windswept beach on the eastern shore of China's Hainan Island.
The top three firms in the category of Best Golf Course Architect in Asia Pacific were Schmidt-Curley Design, Nicklaus Design and JMP Design, all of whom Flagstick is working with currently. Congratulations to these companies on their well-deserved recognition! Flagstick is very proud to have a long history of collaboration with Schmidt-Curley Design and Nicklaus Design, and we are very excited to be working with JMP Design for the first time in Guiyang, China.