Big Awards in China: Flagstick Managed Construction at Four of China's Top Six New Courses of 2011
March 2012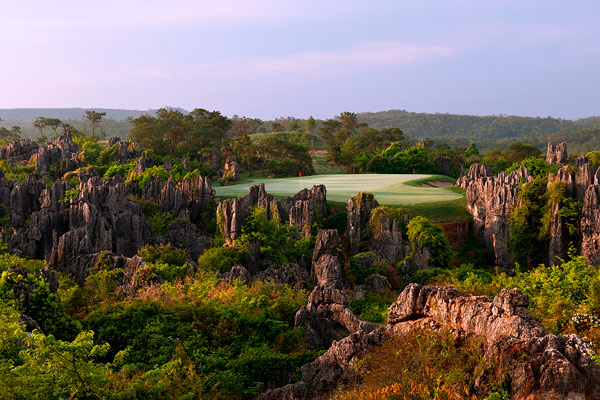 We are proud and honored to announce that four of our recently completed courses were included in Golf Digest's list of the Top Ten New Courses in China for 2011. In fact, all four were in the top six on that list!
Ranked as the No. 1 New Course in China, The Dunes at Shenzhou Peninsula's West Course is a spectacular Tom Weiskopf-designed track routed through sand dunes and native grasses, situated on Hainan Island's east coast, directly on the South China Sea.
The No. 2 New Course in China is Mission Hills Haikou's Blackstone Course. Having hosted the Omega Mission Hills World Cup in November, this course is already on the short-list of Asia's best championship venues.
China's No. 4 New Course is the "C Course" at Stone Forest International Country Club, the third course of a stunning 54-hole complex outside of Kunming that has received attention from far and wide for its dramatic setting amongst bizarre rock formations.
Finally, the No. 6 Best New Course in China is another of Mission Hills Haikou's ten courses. The Lava Fields Course adds yet another prestigious accolade to its long list, which includes being ranked as the No. 1 Best New International Course of 2011 by Golf Magazine.
These are four fantastic golf courses, and we congratulate their staffs on the awards. As we always tell our clients and colleagues, only if a golf course is properly built from the start can it become and remain a world-class facility. We are proud to see the long-term value of our construction management services being realized at these top-ranked courses.