Another Milestone for Flagstick: Our First Construction Management Project in Vietnam
May 2012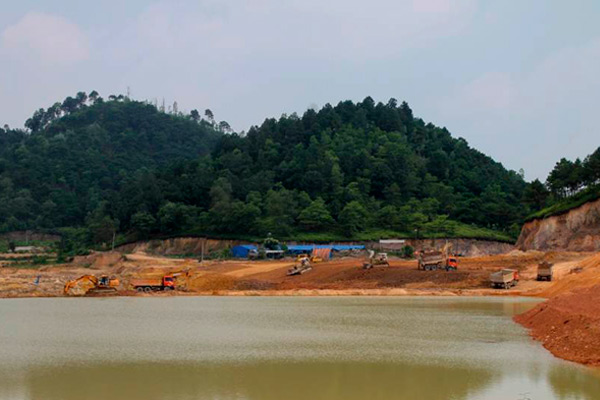 Construction is underway at Flagstick's first project in Vietnam, the Legend Hill Golf Resort, located just outside of Hanoi, the country's capital city. We are very excited to be working in this beautiful nation, which has recently seen a surge in golf development. It is a privilege for Flagstick to be collaborating again with the Nicklaus Design team. Legend Hill Golf Resort is Nicklaus Design's first Vietnam project, and the distinctive design they have created is sure to make this high-end 18-hole golf and residential community a must-play destination in Vietnam.
Legend Hill Golf Resort is being built in celebration of the 1,000-year anniversary of Hanoi's founding. The investment firm of BRG Group has devoted many billions of Vietnamese dong (VND) to develop the facility, which is slated to include a hotel, restaurant, entertainment area, villas, parks, and the 18-hole Nicklaus Design golf course.
The first 11 holes of the course meander through a valley at the base of large hills, among which is the resort's namesake, Legend Hill. The remaining holes weave through a series of lakes and alongside a large reservoir, lending the course a refreshing variety of design styles and challenges.
What is sure to stand out most, as well as make the course fun and memorable, is the two-green design concept. Every hole has two separate greens, strategically placed to challenge players with a variety of possible layouts for each hole. The idea is to give members and guests a 36-hole experience in he space of 18 holes. This unique and highly marketable design concept, along with the Nicklaus name and the beautiful setting for the golf course, is certain to make Legend Hill Golf Resort one of Vietnam's most highly-renowned golf facilities.
Construction started earlier this month at Legend Hill Golf Resort, with Shyang Yih Construction as the contractor. Shyang Yih also built the other two golf courses owned by BRG Group. With mass excavation in progress, three crews are excavating lakes and hauling the dirt to other areas of the site for shaping. It is expected that holes 13, 14, 15, 16, and 17 will be ready for shaping within the month. Soon after these steps are completed, Nicklaus Design will visit the site to give drainage approval and further design insights.
As mentioned above, there could not be a better time to begin providing our services in Vietnam. Last year, Vietnam's government issued revised plans concerning golf course development, stating explicitly that the nation would build nearly 100 golf courses by 2020. Unlike some countries which have been more resistant to support the growth of golf, Vietnam is now actively encouraging golf development to attract investment, tourism, job creation and trade. With hundreds of miles of pristine coastline, dramatic inland terrain and a climate ideally suited to the sport, Vietnam aims to become a major golf destination. Flagstick looks forward to being involved in the construction of many high-quality golf courses in Vietnam.